London is Wild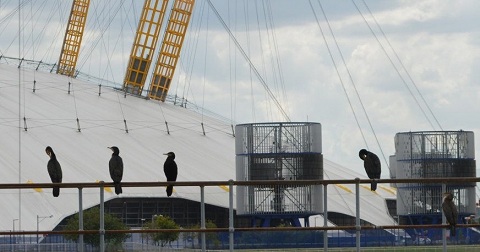 A discussion and celebration of London's anima and bird with David Lindo, Helen Babbs, Mathew Frith and detective Kate Jones.
ot far from London's tarmac and glass is another city full of wild animals and living landscapes. Urban foxes, bats, birds of prey and other beasts are Londoners too. The wildness of our urban landscape is a joy to many but an annoyance to others and seems to be constantly under-threat. London is wild, should we just love it and leave it alone?
Join Londonist at Conway Hall for this discussion and celebration of our animal, bird and plant life with David Lindo, Helen Babbs, the London Wildlife Trust's Mathew Frith and urban bat detective Kate Jones.
David Lindo was recently voted the 7th most influential person in wildlife by BBC Wildlife Magazine and was the man behind the recent Vote National Bird Campaign that attracted nearly 250,000 votes. He writes extensively on urban birdlife and is the author of The Urban Birder, published in August 2011 and Tales From Concrete Jungles published in June 2015.
Helen Babbs is a writer and editor with a keen interest in urban wildlife. Her first book – My Garden, the City and Me, Rooftop Adventures in the Wilds of London – was about urban nature and the glory of growing things; her second book – Adrift – takes London's waterways as its theme. It will be published by Icon in spring 2016.
Kate Jones is a biodiversity scientist with an interest in understanding how biodiversity is maintained and conserved globally. She holds a professorial chair in Ecology and Biodiversity jointly at University College London and The Zoological Society of London and and is the current Chair of The Bat Conservation Trust. Allegedly, Charles Darwin is her 8th cousin (6 times removed).
Matthew Frith is Director of Conservation at the London Wildlife Trust and has a particular interest in the relationship between nature and society in towns and cities. He was worked for London's nature conservation for 27 years and brings a wealth of direct practical and policy experience on the issues that London's nature faces. His favourite bird is the magpie, and his favourite tree, the hornbeam.
Speaker(s):

David Lindo | talks | www
Helen Babbs | talks | www
Prof Kate Jones | talks | www
Matthew Frith | talks | www


Date and Time:

2 November 2015 at 7:30 pm

Duration:


1 hour 30 minutes

Venue:


Conway Hall
Conway Hall
25 Red Lion Square
London
WC1R 4RL
0207 242 8034
http://www.conwayhall.org.uk/
Show map



Organised by:


Tickets:

£8 / £5 concessions

Available from:
Register to tell a friend about this lecture.
Comments
If you would like to comment about this lecture, please register here.