Lois Sturt : Wild Child : The Flapper of Flappers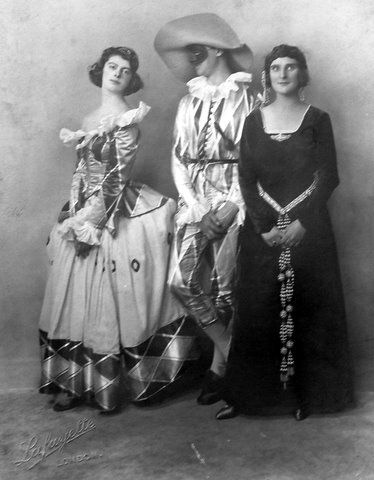 Hon. Lois Sturt's biographer, William Cross, FSA Scot provides an illustrated talk on the dazzling Hon. Lois Ina Sturt, Viscountess Tredegar, the flapper of all flappers
From the age of the flapper, with vivid yarns of those Bright Young Things comes the poignant tale of British high society wild child, the Honourable Lois Ina Sturt of Crichel, daughter of the 2nd Lord and Lady Alington, a dazzling, single minded,one-off personality who was dead by the age of 37. Sibling of the enigmatic, hedonistic peer Lord 'Naps' Alington, the family pile was the magical Crichel Estate in Dorset. The blond, tubercular Naps was matched only in devil may care attitude by his younger sister Lois, a delectable, quixotic creature,an accomplished actress and dancer, a clever painter who studied at the Slade School of Art and had her own art studio in Chelsea. She also became a successful race horse owner and breeder of Great Danes. But Lois' story is largely untold. She was deemed "fast" and "high-spirited": Lois wanted to knock the stuffing out of convention and achieved this by engaging in several long love affairs, generally with older, married men. She was for four years the lover of the much older Reggie Herbert, 15th Earl of Pembroke, and an intimate around the string of unapproved-of good-time girls chasing Prince George, the ill-fated Duke of Kent. In 1928 Lois entered into an arranged, madcap marriage de convenance with the homosexual Hon. Evan Frederic Morgan, heir to the Viscount Tredegar and died suddenly in Budapest in 1937, a victim of long years of alcohol abuse and insane slimming treatments. Author of previous titles on several forgotten Society figures of the 1920s and 1930s.
Speaker(s):

Date and Time:

24 November 2015 at 2:00 pm

Duration:


2 hours

Venue:


Newbridge U3A
Wesley Hall
Bridge Street
Newbridge, South Wales
NP11 5PE


Show map



Organised by:


William Cross, FSA Scot
See other talks organised by William Cross, FSA Scot...

Tickets:

Contact Newbridge U3A

Available from:

Contact Newbridge U3A

Membership Information:

This is a members-only event


Contact Newbridge U3A

Additional Information:

William Cross, FSA Scot is the author or co- author of six books on the Morgan family of Tredegar House, Newport, South Wales.
Register to tell a friend about this lecture.
Comments
If you would like to comment about this lecture, please register here.