Lord Carnarvon, Howard Carter and Tutankhamun Revisited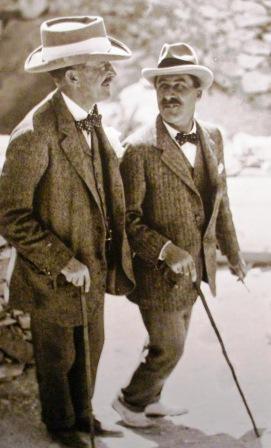 Lord George Carnarvon, Howard Carter and Tutankhamun Revisited : The hidden truths and doomed relationships
Society biographer William Cross, FSA Scot, author of Lordy! Tutankahmun's Patron As A Young Man and the biographer of Almina, 5th Countess of Carnarvon as well as sketches of the 4th and 6th Countesses of Carnarvon enlarges his appraisal of the often topsy- turvey relationship between Almina's first husband, George Herbert and his side- kick Howard Carter, co-discovers in 1922 of the Tomb of Tutankhamun. What are the last remaining untold truths about their comradeship, the master-servant relationship between the patron and the archeologist, both lonely, cheerless figures with the tempers of Nile crocodiles? What elements of their personal stories have been suppressed? Why are there still so many anomalies ( read lies ) in the historical account of the time-line of the great discovery of King Tutankhamun that cannot be acknowledged ?
Speaker(s):

Date and Time:

8 December 2015 at 7:30 pm

Duration:


2 hours 30 minutes

Venue:


Chepstow 41 Club
Christmas Outing
The Royal George Hotel
Tintern
NP16 6SF


Show map



Organised by:


William Cross, FSA Scot
See other talks organised by William Cross, FSA Scot...

Tickets:

Members and Guests

Available from:

Contact the Secretary of the Chepstow 41 Club

Membership Information:

This is a members-only event


Contact the Secretary of the Chepstow 41 Club

Additional Information:

William Cross, FSA Scot is a writer and researcher based in Newport, South Wales. He is the author of several books on Almina, 5th Countess of Carnarvon and one on her husband, the 5th Earl of Tutankhamun fame. Will has also published in his own right ( or with his writing partner, Monty Dart ) six books on members of the Morgan family of Tredegar House. Monty and Will are authorities on the women in the Morgan family. Will and Monty are members of the Society of Authors and Will is a Fellow of the Society of Antiquaries of Scotland.
Register to tell a friend about this lecture.
Comments
If you would like to comment about this lecture, please register here.