Nigeria: A New History of a Turbulent Century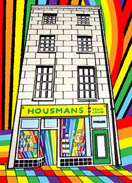 Richard Bourne gives a critical insight into a hundred years of Nigeria's complex and often contradictory history.
Known as the 'African Giant', Nigeria's story is a complex and often contradictory one. How, despite the ravages of colonialism, civil war, ongoing economic disappointment and most recently the Boko Harem armed insurgency, has the country managed to stay together for a hundred years?
Why, despite an abundance of oil, mineral and agricultural wealth, have so many of its people remained in poverty? These are the key questions explored by Richard Bourne in this remarkable and wide-ranging account of Nigeria's history since it came into existence as a defined geographical entity in 1914.
Featuring a wealth of original research and interviews, this is an essential insight into the shaping of a country where - despite the seemingly dashed hopes that were raised at independence - there still remains hope 'the Nigeria project' may still succeed.
Reviews
'Writing about the diversity and complexity of governance in Nigeria poses a challenge even to established historians. Richard Bourne has in this book tackled the challenge with detailed research and admirable perspicacity. Recommended reading for all those interested in Nigerian history.'
Emeka Anyaoku, former Commonwealth Secretary-General
'This book is a major achievement and I defy anyone who reads it not to learn from it and gain greater understanding of the nature and development of a major African nation.'
Lalage Bown, Professor Emeritus, Glasgow University
'Richard Bourne's meticulously researched book is a major addition to Nigerian history.'
Guy Arnold, author of Africa: A Modern History
Speaker(s):

Mr Richard Bourne | talks


Date and Time:

25 November 2015 at 7:00 pm

Duration:


1 hour 30 minutes

Venue:


Housmans Bookshop
5 Caledonian Road
King's Cross
London
N1 9DX
020 7837 4473
http://www.housmans.com/

More at Housmans Bookshop...

Tickets:

Entry £3, redeemable against any purchase

Available from:
Register to tell a friend about this lecture.
Comments
If you would like to comment about this lecture, please register here.