Michael Rosen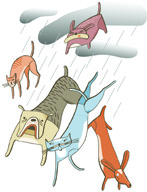 Michael Rosen, poet, broadcaster and 'writer of stuff' comes to Hackney Museum on 27 January to present his very personal take on idioms and saying from everyday life
Michael Rosen, poet, broadcaster and 'writer of stuff' comes to Hackney Museum on 27 January to present his very personal take on idioms and saying from everyday life. His talk accompanies the Museum's exhibition Raining Cats, Dogs and Fishing Rods which looks at the colourful world of idioms used in the many languages spoken in Hackney today.
Michael has often drawn on his family experiences in his work. His first collection of poems, Mind Your Own Business, published in 1974 reflected on his boyhood relationships with his brother and his parents. Since then, Michael has written many anthologies of poems, edited collections of classic poems, written picture books and has made many radio broadcasts. He writes everywhere, scribbling down his 'stuff' on buses, trains, beaches, as well as in his own back garden in Hackney.
Drawing on his own family's rich language heritage Michael Rosen will take us on a journey round some of their colourful sayings. He writes:
"Every family, every group of people has a set of sayings. Some are said in anger, some for a laugh, some to offer advice, some to console ourselves. In my family my father especially could mutter curses in a language I didn't understand - Yiddish, and it's taken me years to find out what they meant. (Could you really wish that someone would catch cholera?). Because he was in the US army he came back with a set of phrases from there like, 'Who gave youse guys route step?' meaning why aren't you marching in time? And because he taught English Literature he was fond of using quotes from Shakespeare and Dickens like 'Ah the whirligig of time brings in his revenges' - which was only an old way of saying, 'What goes around, comes around'.
Join us at Hackney Museum for an evening of Rosenisms, and share with us some of your own!
This project is supported by the Heritage Lottery Fund
Speaker(s):

Date and Time:

27 January 2005 at 6:30 pm

Duration:


1 hour

Venue:


Hackney Museum
Hackney TLC
1 Reading Lane
London
E8 1GQ
020 8356 3500
http://www.hackney.gov.uk/hackneymuseum

More at Hackney Museum...

Tickets:

Free

Available from:

The event is free, but booking is essential. Call 020 8356 3500 or visit the museum for a free place.
Register to tell a friend about this lecture.
Comments
If you would like to comment about this lecture, please register here.