Philosophies of East and West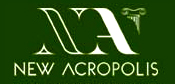 Free introduction into philosophy in a classical tradition - seen as a way of life, and into some universal philosophical ideas and how they can be used for our everyday life.
Philosophy is the love of wisdom and the quest to understand the underlying principles of life. The need to ask "why" and the intuition that there are answers to be found are inherent human characteristics and have been the driving force of all progress.
Every civilization has passed on to us its knowledge of the essential laws of life. This treasure of wisdom has formed characters, shaped visions of the future and enabled men and women to meet the challenges of their time.
Discover the vast heritage of practical and universal knowledge that has sustained, inspired and guided humanity throughout the ups and downs of history.
Outline of course: Major concepts of the philosophies of India, Tibet, Buddhism, Egypt, China (Confucius), Greece and Rome (Plato, Plotinus, the Stoics), the Hermetic Tradition, Principles of Ethics, Sociopolitics and Philosophy of History.
First introductory evening FREE. 16-week course to be hold on consecutive Wednesdays 7.15pm - 9.30pm. There is a refreshment break with a possibility of having a light meal or tea and biscuits and an opportunity for informal discussions.
Price for 16-week course £140 (£105 concessions). Handouts included in price
First introductory evening FREE
Register to tell a friend about this lecture.
Comments
If you would like to comment about this lecture, please register here.