The Carnarvons of Highclere Castle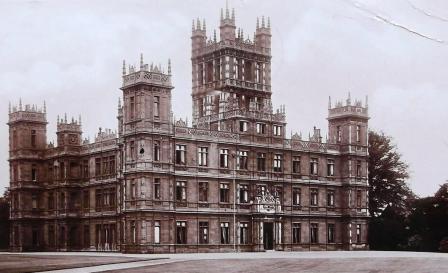 Highclere's Earls and Countesses : An illustrated talk giving a brief overview of the history of the site of Highclere Castle, Hampshire together with highlights from the life and times of the past eight Earls of Carnarvon and their respective Countesses stretching from 1793 until the present day. NB Highclere Castle is the backdrop to TV's highly successful period romp Downton Abbey.
With its mention in the Domesday Book , Highclere was the one of the estates of the Bishops of Winchester for many centuries. It has been the home of the Earls of Carnarvon since the 17th century. The Carnarvons are a cadet branch of the Earls of Pembroke and Montgomery of Wilton House, Salisbury. The respective Carnarvon Earls, eight of them to date, have been landowners, soldiers, statesmen, poets and adventurers. Their ladies have been drawn from some of the noble families of Britain; several of the women have outlived their husbands, some making a name for themselves in their own right . In the 19th century the 3rd Earl commissioned Sir Charles Barry to transform the rebuilding of the house into the iconic symbol we see today, made famous worldwide in its associations with the TV saga, Downton Abbey. William Cross, FSA Scot is the author of several books that cover the stories of the 4th, 5th and 6th Earls and Countesses and their offspring. He shares some of these tales in this talk.
Speaker(s):

Date and Time:

11 April 2016 at 7:30 pm

Duration:


1 hour 30 minutes

Venue:


Talywaun & District WI
Talywaun Senior Citizens Hall
Talywaun
NP4 7AA


Show map



Organised by:


William Cross, FSA Scot
See other talks organised by William Cross, FSA Scot...

Tickets:

Talywaun & District WI

Available from:

Talywaun & District WI

Membership Information:

This is a members-only event


Members of Talywaun & District WI and guests

Additional Information:

William Cross, FSA Scot is the author of five books on the Carnarvons of Highclere. " The Life and Secrets of Almina Carnarvon" ( 2011); "Lady Carnarvon's Nursing Homes" ( 2011); "The Dustbin Case: Dennistoun v Dennistoun" ( 2012); "Lordy! Tutankhamun's Patron As A Young Man" ( 2012) and " Catherine and Tilly: Porchey Carnarvon's Two Duped Wives." ( 2013).
Register to tell a friend about this lecture.
Comments
If you would like to comment about this lecture, please register here.