Learning machines - how computers got smart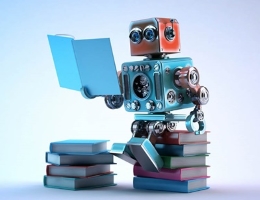 Join Marcus du Sautoy and a panel of experts to discuss the future of machine learning. You can also get hands on with machine learning technology, at our interactive exhibition.
Machine learning is a hidden power behind many services we use each day, and is set to transform many others, but what exactly is it?
When online streaming services recommend your next movie, a search engine predicts your next query, or a virtual assistant learns to understand your voice, it is thanks to machine learning algorithms.
In future, machine learning could improve transport, security, healthcare and revolutionise industry. But despite its reach, this powerful technology remains mysterious to most.
Join our panel of speakers, chaired by Marcus du Sautoy, to discuss what we mean by machine learning and discover some of the exciting current and future uses of this technology.
We'll have presentations from the Head of Microsoft Research Chris Bishop, robotics researcher Sabine Hauert and machine vision researcher Maja Pantic.
You'll also be able to take part in an interactive exhibition where machine learning developers and researchers will showcase examples of the technology in action.
This event is free and open to the public on a first-come, first-served basis. The talks and panel discussion will run from 18:30 to 20:00, doors open at 17:30 and close at 21:00. This should give you an opportunity to visit the interactive exhibition both before and after the talks.
This event will also be livestreamed on the event page. Tweet your questions to @royalsociety during the panel discussion to join the conversation.
Speaker(s):

Dr Maja Pantic | talks
Mr Chris Bishop | talks
Dr Sabine Hauert | talks
Professor Marcus du Sautoy | talks | www


Date and Time:

12 April 2016 at 5:30 pm

Duration:


3 hours

Venue:


The Royal Society
6-9 Carlton House Terrace
London
SW1Y 5AG
+44 20 74 51 2500
http://www.royalsociety.org

More at The Royal Society...

Tickets:

Free

Available from:

Additional Information:

Free
No registration required
Doors open at 6pm
Seats allocated on first come first served basis

Enquiries: events@royalsociety.org
Register to tell a friend about this lecture.
Comments
If you would like to comment about this lecture, please register here.