EU Criminal Law After Lisbon. Rights, Trust and the Transformation of Justice in Europe.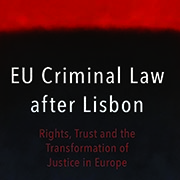 The Inaugural Lecture of Professor Valsamis Mitsilegas
The entry into force of the Lisbon Treaty has introduced seismic constitutional changes in the field of EU criminal law. By focusing on key areas of criminal law and procedure, the lecture will assesses the extent to which the Lisbon Treaty has transformed European criminal justice and evaluate the impact of post-Lisbon legislation on national criminal justice systems. The lecture will address the new powers of the Union to harmonise substantive criminal law and the influence of European Union law on national substantive criminal law; the Europeanisation of prosecution from horizontal co-operation between national criminal justice to forms of vertical integration in the field of prosecution as embodied in the evolution of Eurojust and the establishment of a European Public Prosecutor's Office; the operation of the principle of mutual recognition (by focusing in particular on the European Arrest Warrant System) and its impact on the relationship between mutual trust and fundamental rights; and the relationship between mutual recognition and harmonisation of criminal procedure, in particular via the adoption of EU law on defence rights. Informed by the challenges of a potential Brexit, the lecture will address the impact of the EU Charter of Fundamental Rights on the constitutionalisation of EU criminal law after Lisbon and highlight the possibilities that the Lisbon Treaty opens for the development of a new paradigm of European criminal justice, which places the individual (and not the state), and the protection of fundamental rights (and not security) at its core.
The lecture will be followed by a drinks reception and a book launch.
Invited discussants: Advocate General Eleanor Sharpston QC, Court of Justice of the European Union, Professor Marise Cremona, Professor of European Law and formerly President ad interim, European University Institute and Professor Jörg Monar, Rector, College of Europe.
Register to tell a friend about this lecture.
Comments
If you would like to comment about this lecture, please register here.