'Killing Trayvons: An Anthology of American Violence' with Thandisizwe Chimurenga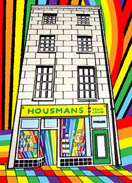 Activist and journalist Thandisizwe Chimurenga discusses the normalisation of violence against people of colour in the US, perpetuated by white privilege and police power.
Housmans welcomes feminist activist and journalist Thandisizwe Chimurenga to discuss the case of Trayvon Martin and how his death is just one of many examples of violence against people of colour in the US. Chimurenga is a contributor to a new CounterPunch Books anthology, Killing Trayvons: An Anthology of American Violence, examining American brutality against people of colour through the lens of the 2012 shooting of the unarmed Trayvon Martin in Sanford, Florida by neighborhood watch volunteer George Zimmerman, who was ultimately acquitted of second-degree murder and manslaughter charges.
The book explores why Trayvon's name and George Zimmerman's not guilty verdict symbolized all the grieving, the injustice, the profiling and free passes based on white privilege and police power: the long list of Trayvons known and unknown. The editors therefore titled this book Killing Trayvons because although Martin's profiling and death received extraordinary attention, they were crushingly ordinary, not only for black and brown youth in the suburbs and city streets of America but in the browner nations of the world, where the US, its clients and proxies stand their ground, claim self-defence, take preventive or pre-emptive action -- the verbal sleights-of-hand are many -- to deadly effect.
With contributions from Robin D.G. Kelley, Rita Dove, Cornel West and Amy Goodman, Alexander Cockburn, Etan Thomas, Tara Skurtu, bell hooks and Quassan Castro, June Jordan, Jesse Jackson, Tim Wise, Patricia Williams, Alexis Pauline Gumbs, Vijay Prashad, Jesmyn Ward, Jordan Flaherty, Killing Trayvons is an essential addition to the literature on race, violence and resistance.
Reviews
"The essays form a searing indictment of a status quo that has accepted brutalization of communities of color and the premature termination of black lives since the era of widespread lynchings […] Killing Trayvons is packed with useful perspectives and powerful writing. It should be widely read for use in struggles for justice in the U.S.' -Ben Terrall, journalist The Berkeley Daily Planet
About the Author
Thandisizwe Chimurenga is an award-winning, freelance journalist based in Los Angeles. She came to journalism through activism, understanding how powerful media can be for destroying or building grassroots, revolutionary change. She has been a writer and creator or co-creator of media (newspapers, Cable TV, radio) for over 20 years and her community activism has ranged from electoral organizing; anti-police terror work; freedom for political prisoners and prisoners of war; to organizing against violence against women.
Register to tell a friend about this lecture.
Comments
If you would like to comment about this lecture, please register here.