LONDON'S BURNING SEASON: 'Hackney Propaganda: Working Class Club Life and Politics in Hackney 1870 –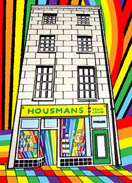 Join Tony Norfield, former analyst with 20 years experience in City banks and author of The City: London and the Global Power of Finance, at Housmans to discuss the City and the new economic imperialism.
How does the City of London exert such power on the global economy? The City is a key part of the mechanism by which economic power gets transferred to major companies. It handles 41% of all the world's dealing in foreign exchange and nearly half of all interest rate derivative deals between banks and their clients. But while banks are at the centre of this network, they mainly act as the intermediaries for others. Big corporations are the drivers of these deals. They aim to boost their market power, especially through mergers and takeovers, and are helped by their access to financial markets.
Tony Norfield details, with shocking and insightful research, the role of the US dollar in global trading, the network of British linked tax havens, the flows of finance around the world and the system of power built upon financial securities. Samsung and Apple provide 40% of the world's smartphones and just five companies produce half the world's beer. Why do just fifty companies now have control of a large share of world economic production? How have we reached the point where this concentration of financial and economic power has accumulated in these few companies? And what does this say for the prospects of social and political change?
The City explains how this situation came about, examining the history of the world economy from the post-war period to the present day. If you imagine you don't like "finance" but have no problem with the capitalist market system, think again: it turns out the two cannot be separated.
This event is part of Housman's 'London's Burning' season.
Reviews
"How many Marxists are at work in the dealing rooms of the City? Presumably they keep their heads well down. Tony Norfield is—or was—one. Twenty years a trader at the centre of the financial web, he has married the insights into the workings of the system he gained to a thorough Marxist understanding of political economy. The result is this fascinating book."– Morning Star
"It is not every day you read a book about global finance by a banker who quotes Lenin approvingly on page two. Unlike many of those who produce Marxist critiques of financial capitalism, Norfield writes from a position of experience: he has worked in the belly of the beast, and the book is the better for it...In The City, he has done the research and pulled together the financial statistics that explain how the bloodsucking works."– Brooke Masters, Financial Times
Register to tell a friend about this lecture.
Comments
If you would like to comment about this lecture, please register here.