Plato and Aristotle on Friendship and Community (2)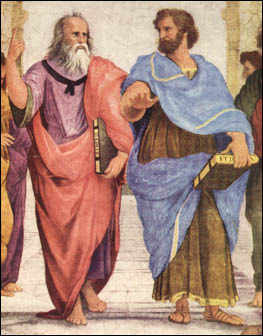 Short talk on Plato and Aristotle's exploration of friendship and community.
Upon what is friendship and community established? And how are both held together in a healthy state?
We live in a world in which our communications have a wider reach than those of previous generations – but it is possible that this merely serves to underline differences and disagreements. We are beginning to understand how much our actions, words and thoughts affect others widely spread around the world (and that theirs affects us) – we are being forced into recognizing that we are part of a global society, whether we like it or not. As is usual in human affairs, changes can be turned to the good, or they can lead us away from the good: what should we do in order to bring about the best in our widening community?
Plato and Aristotle lived at a time when a similar upheaval was happening – horizons were expanding for the various cultures which were established around the Mediterranean and differing peoples were coming into greater contact. Society was becoming less tribal and more city and state-based. Over two evenings we will study some of the writings of these philosophers about both friendship and community, discuss their insights, and consider whether these can help us in the task that lies before us.
This is a second evening (the previous one was on October 17th) on this subject: we will begin with a summary of the main points raised on the earlier evening - the threads should be easily picked up if you missed it.
No previous experience of formal philosophy is required.
Entrance in free, but donations between £3-5 will be welcomed.
A PDF download of the extract we will be reading is available on our website together with further details of this and other Prometheus Trust's activities: www.prometheustrust.co.uk (the PDF is on the "London Monday Evenings" page.)
Register to tell a friend about this lecture.
Comments
If you would like to comment about this lecture, please register here.