The Judgment of Paris – a precursor to war?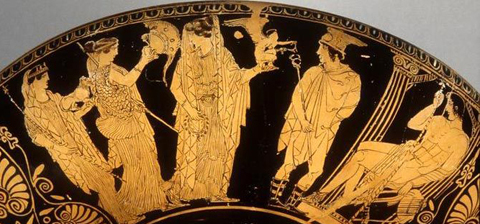 A retelling and an exploration of the myth of the Judgement of Paris from the Platonic tradition's perspective.
UHomer's two great epics, the Iliad and the Odyssey, we sources of profound wisdom for the sages of the Platonic tradition. They took the view that hidden within the myths retold by Homer were truths which, read correctly, would reveal many of the mysteries of the human condition. The story of the return of Odysseus after the ten year siege of Troy was understood to be a symbolic representation of the struggle the soul has to return to her true home ascending from the ocean of generation to the palace of her ancestors. The Iliad, on the other hand, was seen as depicting the descent of the soul into the material world full, as it is, with the tensions which accompany such a descent.
This evening we'll look at the myth which brings about the events that led to the war between the Greeks and the Trojans – the myth of the Judgment of Paris. When the prince of Troy is asked to pass judgment upon the three Goddesses – Athena, Hera and Aphrodite who are competing for the golden apple – what is he actually choosing between? Can we see a connection between the powers over which the Goddesses preside – wisdom, rulership and desire – and the Platonic tripartite soul? Why does the choice of Aphrodite lead to such a bitter war?
The evening will begin with a retelling of the myth, a brief summary of the nature of the ancient understanding of the Goddess and the threefold division of the powers of the soul as given in Plato's Republic. We should have an hour after this to explore the extraordinary symbolic depth of the myth.
No previous experience of formal philosophy is required.
Entrance in free, but donations between £3-5 will be welcomed.
A PDF download of the extract we will be reading is available on our website together with further details of this and other Prometheus Trust's activities: www.prometheustrust.co.uk (the PDF is on the "London Monday Evenings" page.)
Register to tell a friend about this lecture.
Comments
If you would like to comment about this lecture, please register here.