How to understand and respond to change. Advice from the I-Ching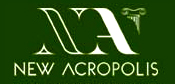 The I-Ching is China's oldest and most important philosophical text. Devised as a way of understanding the constantly changing situations.
I-Ching has been used to guide human choices for 3000 years. This talk will introduce you to its profound philosophy and show you how you can work with the I-Ching.
Register to tell a friend about this lecture.
Comments
If you would like to comment about this lecture, please register here.