'The 21st Century Revolution: A Call to Greatness' with Bruce Nixon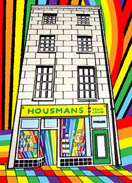 Bruce Nixon's book makes sense of the widespread collapse of confidence in current mainstream politics and economics, and proposes practical, radical solutions.
We are in the midst of a great revolution. Every century has its revolutions and ours is no exception. It is multi-faceted and interconnected. There is a revolution in science, medicine and technology. The scientific and technological revolution will transform our lives, our work and the world as we know it. Undoubtedly, many of these developments will bring enormous benefits, particularly in the area of human health. However, equally, they could result in the even greater concentration of power and wealth in the hands of the few. The danger is we'll be deluded by techno-fixes.
We are also in the midst of an economic and political revolution. All over the West, Neoliberal economic ideology, austerity, consumerism, free-market capitalism and top down politics are being challenged, especially by younger people. The internet is transforming politics by facilitating dialogue and giving power to people. In the year of the 800th anniversary of Magna Carta, and after an election that gave power to a UK government with only 37% of the votes, there are growing calls for a fair voting system, radical reform of outdated democratic institutions and a different way of doing politics. The story of Syriza in Greece has much in common with Spain's Podemos, Scotland's independence campaign and Jeremy Corbyn's successful bid to lead and transform the UK Labour party. These developments, a stagnant economy and mass migration are forcing the EU to rethink itself.
We face the biggest challenges in our history. Science and technology will not help us unless we are determined to act on the urgent need to tackle climate chaos, conserve a living planet, resolve economic inequality and break entrenched power structures. As I write, Cop 21, the 21st annual session of the International Climate Change Conference, is to be held in Paris, 30 November to 11 December 2015. Will the necessary action be finally agreed and acted upon in time to prevent catastrophe? Will we learn to live lightly on the planet? Will we learn to collaborate and resolve conflict without war? Like all species, human beings are evolving. But will we do so in time?
The greatest obstacles, argues Dixon, are the lack of farsighted, courageous leaders who will speak the truth and disempowered citizens who think there is nothing they can do. Hence the subtitle of this book – A Call to Greatness.
This accessible book will help you make sense of the situation. It offers ways forward and practical solutions. It will help you decide how you want to engage with others in creating a better world through a peaceful revolution. Above all it will give you hope.
Reviews
"This is an amazing book - not just because it tells us what's wrong with our society and how to put it right - but because it is full of hope and love for people and our planet. The world is a better place for The 21st Century Revolution – A Call to Greatness and its author Bruce Nixon - the book inspires me to help make the 21st century revolution happen." - Neal Lawson, Chair of Compass
"A fascinating read, a really good contribution to the debate about the future of democracy." - Katie Ghose, Chief Executive, Electoral Reform Society
"Read this excellent analysis of what's gone wrong, take heart and fight for positive change!" - Yvonne Roberts, Journalist and Fellow of the Young Foundation
About the Author
Bruce Nixon is a veteran change agent, author, writer, speaker and activist. He has published five books and many articles.
Register to tell a friend about this lecture.
Comments
If you would like to comment about this lecture, please register here.