500 million years of Earth History: an adventure with ostracods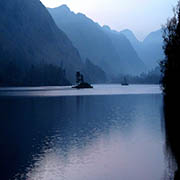 The Inaugural Lecture of Professor Dave Horne
Fossil ostracod shells provide a rich record of their evolution as well as the environmental and climatic change witnessed by these tiny crustaceans which today inhabit oceans, seas, estuaries, lagoons, lakes, rivers, ponds and springs. This lecture will highlight four case studies from the ostracod archive: Palaeozoic oceans and climate; Mesozoic lakes, temporary ponds and dinosaurs; Mesozoic oceans in a greenhouse world; and the Pleistocene expansion of early humans into NW Europe. Each provides opportunities to explore the benefits of international, interdisciplinary scientific collaboration as well as the challenges of applying a uniformitarian, palaeobiological approach to the interpretation of fossil ostracod assemblages.
The lecture will be followed by a free drinks reception.
Register to tell a friend about this lecture.
Comments
If you would like to comment about this lecture, please register here.