What we thought we knew, what we now know, and what we could never have known: observing post-commun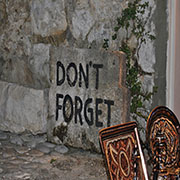 The Inaugural Lecture of Professor Adam Fagan, Professor of European Politics and Head of School
The crisis and ultimate collapse of Soviet-style communism across Eastern Europe in 1989 was framed by many scholars in terms of the rise of civil society. The democratic 'third wave' that engulfed the region's authoritarian regimes was predicted to deliver participation and emancipation to citizens denied political voice and agency for over four decades; to enable the articulation of their interests and engage them in the momentous processes of political, economic and social reform. Civil society was held up as a panacea for initiating progressive politics, for implementing policy reform, for instigating post-conflict reconstruction, and, of course, driving forth the Europeanization of these newly democratic polities. This idealistic vision of what civil society could and should achieve in the Czech Republic, in Bosnia-Herzegovina, or in Serbia paid little heed to the realities of established western democracies.
From various perspectives – environmental activism, judicial reform, minority rights – this lecture explores the complexities and contradictions of engaging citizens in the post-communist and post-conflict states of Europe.
The lecture will be followed by a networking drinks reception.
Register to tell a friend about this lecture.
Comments
If you would like to comment about this lecture, please register here.