"Canaries in the coal mine": How birds reveal deep links between genome, brain and behaviour.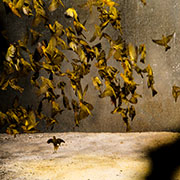 The Inaugural Lecture of Professor David Clayton, Professor of Neuroscience
Birds provide a special window into our environment and our biology. Embedded in the world around us, they display rich observable behaviours which can serve as object lessons for principles of learning, communication, social organization, and adaptation to environmental change. In neuroscience, study of birds has produced striking insights into the structural plasticity of brain circuits controlling behaviour, and more recently into the dynamic role of the genome in brain function. In songbirds, different "neurogenomic states" (patterns of brain gene expression) are elicited by different experiences and environmental contexts, suggesting a role in cognition. For example, shifts in neurogenomic state occur when birds communicate through birdsong. For birds that normally live in social groups, the experience of being all alone elicits yet another neurogenomic state. In each of these examples, the genes involved have clear orthologues in humans, though it is impossible to study gene activity directly in the brains of humans. Studying birds will help us to understand the deep mechanisms that link social experience, brain gene activity and adaptive behaviour.
The lecture will be followed by a networking drinks reception.
Register to tell a friend about this lecture.
Comments
If you would like to comment about this lecture, please register here.