Utopia: history of an idea and its relevance for our times of change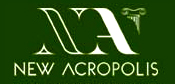 This talk will explore our fascination with utopias and the critical questions that surround the idea: are utopias doomed to fail? Has anything good ever come out of them? Alternatively, are utopian ideas actually necessary to address shortcomings within our societies?
This year is the 500th anniversary of the publication of Thomas More's book Utopia where he describes an imaginary island representing the perfect society. Although he coined the word, which gave rise to a whole genre in literature and film, the history of utopias - and dystopias - goes back much further.
Register to tell a friend about this lecture.
Comments
If you would like to comment about this lecture, please register here.