Touching Spectators - Spectating Touch | CROSSING BORDERS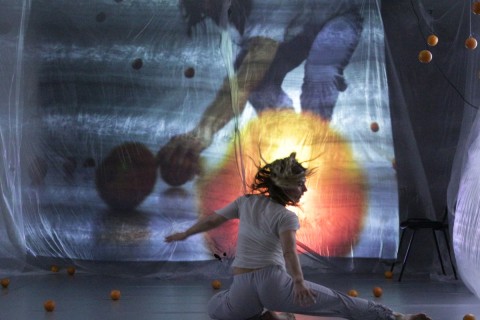 Dancers can touch audiences without actually touching them: Corinne discusses scientific approaches to these forms of touch and artistic applications.
Touching spectators – Spectating touch
Touch is a very special sense. It is the most intimate of all senses and in close relationship with the 'sixth sense', proprioception. Where we are touched, how, when and by whom is of crucial importance to our sense of touch and ultimately our response to it. Dance audiences can feel touched through spectating touch as well as through the kinaesthetic sense of looking at dancers in motion. Hence, when dancers touch audiences, they can do so without actually touching them. In this talk, Corinne will discuss scientific approaches to these forms of touch and exemplify artistic applications.
Corinne Jola is a scientist, lecturer and choreographer based in Dundee. She trained in Psychology and Dance with a Masters awarded in Choreography (Trinity Laban Conservatoire of Music and Dance) and a PhD in Cognitive Neuroscience (University of Zurich). The dialogue between science and dance is given a real voice through her comprehensive interdisciplinary approach. Her research investigates the neuronal and phenomenal links of embodiment in the sensory and motor system in dancers, non-dancers, and dance spectators.
For more information: http://www.independentdance.co.uk/programmepage/exchanges/crossing-borders/
Also coming up in the Crossing Borders series:
6 Dec - Frontiers of Dance and Health | Miranda Tufnell / Knowing Body Network
13 Dec - Unwrapping d a n s e | Rosalind Crisp
Independent Dance
T: 020 7091 9650
E: info@independentdance.co.uk
W: http://www.independentdance.co.uk/
Register to tell a friend about this lecture.
Comments
If you would like to comment about this lecture, please register here.