Plato's Symposium and Diotima's path of love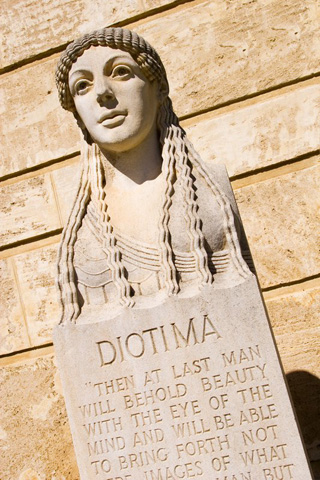 Plato's praise of love through the teachings of Diotima
What is Love, and what part does it play in the world and in human aspiration?
Platonic philosophy takes the serious seeker of beauty and truth beyond the merely rational - as useful as reason is - and in his Phaedrus Plato calls the inspiration of Eros the "best of all enthusiasms."
Plato's Symposium is a series of speeches in praise of Eros made by the cultured men of classical Athens – but to this party Socrates conjures the presence of the mysterious priestess Diotima who outlines a "ladder of love" which, she says, we should climb. She explores the relationship of Desire-love to beauty, of lover to beloved, of philosopher to wisdom, and of soul to virtue; and in so doing she acts as an initiator in the "mysteries of Love." After a brief introduction to what has preceded her speech in the dialogue, we will read passages from it and discuss the ideas she puts forward.
No previous experience of formal philosophy is required.
Entrance in free, but donations between £3-5 will be welcomed.
A PDF download of the extract we will be reading is available on our website together with further details of this and other Prometheus Trust's activities: www.prometheustrust.co.uk (the PDF is on the "London Monday Evenings" page.)
Register to tell a friend about this lecture.
Comments
If you would like to comment about this lecture, please register here.