Orphic Myth and Platonic Philosophy - another look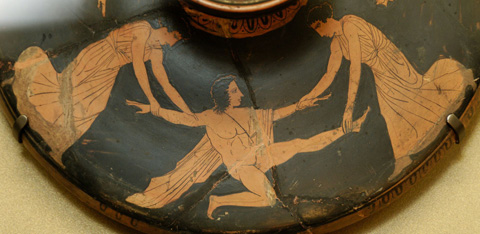 Exploring the Orphic of myth of Dionysus torn apart and eaten by the Titans woven into Plato's dialogue, the Phaedo.
Orphic Myth and Platonic Philosophy - another look
Plato drew upon many sources as he explored the profound truths which are presented in his dialogues – but perhaps none are more fundamental and far-reaching then that of the Orphic teachings. The Orphic myths offer insights into the nature of reality, the place of the human self within that reality, the path we take as we experience life and death, and the possibilities of a radical change in consciousness if we can find our way through the twists and turns of the labyrinth that lies before each one of us. In this session we will retell the Orphic myth of Dionysus which is referenced in Plato's Phaedo and explore its connections to the dialogue.
This is the second of two sessions looking at Orphic myth and Platonic philosophy (the first was on March 13th) but we'll recap on the points that were examined on that evening, so if you missed it, you should be able to pick up the threads.
No previous experience of formal philosophy is required.
Entrance in free, but donations between £3-5 will be welcomed.
A PDF download of the extract we will be reading is available on our website together with further details of this and other Prometheus Trust's activities: www.prometheustrust.co.uk (the PDF is on the "London Monday Evenings" page.)
Register to tell a friend about this lecture.
Comments
If you would like to comment about this lecture, please register here.