'Poet in Residence Launch' with Siana Bangura Plus Special Guests Aliyah Hasinah and Asabi Hawah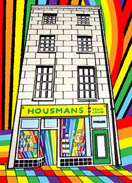 Poet and feminist activist Siana Bangura launches her poetry residency at Housmans with readings from her award winning collection Elephant. With special guests Aliyah Hasinah and Asabi Hawah
Poet and feminist activist Siana Bangura launches her poetry residency at Housmans with readings from her award winning collection Elephant. Special guests to be announced.
Housmans is dedicated to the idea of poetry as an instrument for political change in uncertain times. We are therefore proud to announce Siana Bangura as our first Poet in Residence.
Siana is a poet and founder of Intersectional Black Feminist Platform, No Fly on the WALL. As the Housmans' Poet in Residence, Siana will curate three poetry events and three poetry workshops over an 8 month period, finalising in a closing event in October 2017 in which she will announce the next Housmans' Poet in Residence.
At this launch, Siana will be reading from her award winning collection Elephant.The collection tackles issues such as black womanhood, gender and racial politics, as well as family, fatherlessness, identity, Black British girlhood, unemployment, gentrification, disenfranchisement, love and loss.
Siana will also outline her plans for the residency and will be accompanied by special guests Aliyah Hasinah and Asabi Hawah. Aliyah will perform poetry and Asabi will be providing an acoustic set for the evening.
We are delighted to welcome such a talented poet and committed activist and look forward to her events and workshops. Please follow Housmans and Siana on social media to keep updated with regards to the Poet in Residence events.
Reviews
"[She] is one seriously amazing force to reckon with. This prolific blogger, spoken word artist, poet, writer and women's right activist is more than just a cute face and fashionista – her lyrics run deep with meaning and touch a raw nerve that allows us all to connect with each other on the most simple, yet intricate level – as human beings. And then there's her sweet and demure performance style that is captivating, simply allowing her words and unique flow to seep into her soul one minute and the next sweep you into into a hurricane of letters!" – Emma Ako, Carpe Diem Nights, September 2015
About the Performers
Siana Bangura is a writer, blogger, poet and freelance journalist from London. She is the founder of Intersectional Black Feminist Platform, No Fly on the WALL. She is the author of Elephant, a candid collection of poetry on black womanhood, black British identity, migration, love and loss; and she is the producer of 1500 And Counting (www.1500andcountingfilm.com). You can follow her on Twitter (@Sianaarrgh) and find out more about the project at www.sianabangura.com. Picture of Siana by Adama Jalloh.
Aliyah Hasinah is a freelance artivist and poet whose writing focuses on personal understandings of history, politics and social commentary.
Asabi Hawah is an East London based soulful singer/songwriter with a diverse style and range – effortlessly meandering from Soul to Reggae to Afrobeat.
Speaker(s):

Siana Bangura | talks


Date and Time:

16 March 2017 at 7:00 pm

Duration:


1 hour 30 minutes

Venue:


Housmans Bookshop
5 Caledonian Road
King's Cross
London
N1 9DX
020 7837 4473
http://www.housmans.com/

More at Housmans Bookshop...

Tickets:

£3 redeemable

Available from:

https://www.eventbrite.co.uk/e/siana-bangura-housmans-poet-in-residence-launch-tickets-32628412460
Register to tell a friend about this lecture.
Comments
If you would like to comment about this lecture, please register here.