The Chatelaines of Highclere Castle : Heiresses, Hedonists and Hookers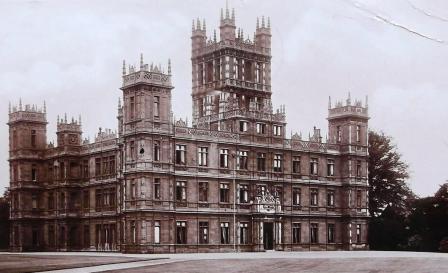 An up beat celebration and expose of the First to the -Sixth Countesses of Carnarvon by Author and historian William Cross, FSA Scot
The wives of the first six Earls of Carnarvon are less well known than their husbands or the Herbert family seat itself at Highclere Castle on the Hampshire- Berkshire border, the location synonymous with ITV's Downton Abbey.
Yet when you pull back the story lines, these eight women dazzle. They built up the Herbert family, their lives tower over their men folk for spark, personal strengths, and surprising, compelling stories of their origins & achievements.
These interesting women stand out to form a lasting legacy of their own when recounting how they ran Highclere as the Earl's wife, mother to the Earl's children, the house chatelaine ( managing dozens of servants) , and a busy hostess charged with receiving and entertaining VIPs of the era.
Between 1793 and 1939 the period of the First to the Sixth Countesses of Carnarvon the eight remarkable woman who held the title make a quixotic mix. The first three Countesses in succession Elizabeth, Kitty and Henrietta were wealthy heiresses drawn from some of the great peerage families of England, including the Wyndhams, Acland and Howard nobility (the last mentioned had links to the Dukes of Norfolk). The 4th Countess Evelyn Stanhope was an Earl's daughter, a Royal Courtier, energetic horse woman and dynamic political hostess but who died young. She was followed by another member of the Howard clan, Elsie, a smart, hedonistic woman who strangled Herbert history by the deletion of large chunks of her husband's (the 4th Earl's) diaries in order to suppress the true nature of his relationship with his eldest son and heir and hide the horrific evidence of scandal, family flaws and bad genes. Next came the 'Pocket Venus', Almina Wombwell, the petite, cunning, 5th Countess who added more wealth from out of the Rothschild banking family. Almina was misled and frustrated by a perverted spouse ( a man who later claimed fame as the discoverer of Tutankhamun). The 5th Earl brought in surrogacy arrangements and ditched the Herbert bloodline in favour of a dangerous adage to the gene pool from his best friend, an Indian Prince. Rumours were rife. Lies were lavishly told. Money was paid to keep secrets subdued. History was altered. On a higher level Almina became a pioneering nurse in the Great War, later matron at a series of plush nursing homes and beyond this she was the longest lived of the Carnarvon women.
The first of the two Sixth Countesses Catherine Wendell was a glamorous American who grew up in England, she was popular with Highclere staff but badly treated, sacrificed and humiliated by her womanising husband, Porchey, a bullying sex pest. Catherine turned to drink, she eventually found love, with affairs with several high placed men including the musician, Malcolm Sargent. Then came Tilly Losch , the second 6th Countess, an Austrian Jewess, talented ballet dancer ( famous for her ' Dance of Hands' routine) and a film and stage star sought temporary safety as war loomed by marriage to the 6th Earl in 1939. Hers was the shortest tenure as Highclere Castle's chatelaine, just ten weeks before she fled to the USA. In America Tilly had once been a Holywood figure in her early days, and a limelight act on the London stage working with the legendry Noel Coward and Cocky Cochran in the late 1920s and Fred Astaire in New York in the early 1930s. Tilly used her sexual favours to lure men and women into her bed. She kept a score card of those who were caught up in her web.
William Cross, FSA Scot the author of six books on the Herberts of Highclere offers an entertaining insight into these eight women whose like we shall never see again.
Speaker(s):

Date and Time:

19 April 2017 at 2:00 pm

Duration:


1 hour 30 minutes

Venue:


Newport Hard of Hearing Club
c/o Riverfront Theatre
Kingsway
Newport
NP20 1HG


Show map



Organised by:


William Cross, FSA Scot
See other talks organised by William Cross, FSA Scot...

Tickets:

Members and Guests

Available from:

See Club Secretary

Membership Information:

This is a members-only event


See Club Secretary

Additional Information:

William Cross, FSA Scot is the author of six books on the Herberts of Highclere CAstle. These books include controversial titles with a candid biography of Almina, 5th Countess and a book on the two Sixth Countesses. His latest book " Carnarvon, Carter and Tutankhamun Revisited " drills down into the story of the discoverers of the great treasure found in the Valley of the Kings in 1922.
Register to tell a friend about this lecture.
Comments
If you would like to comment about this lecture, please register here.