Leo Abse and the Reform of the Sexual Offences Acts 1967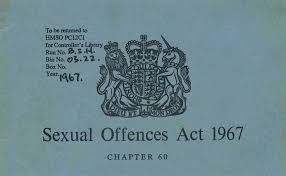 William Cross, author of THE ABERGAVENNY WITCH HUNT, a case from 1942 that saw the prosecution of over 20 homosexuals in a small Welsh town looks at the changes made to the law in 1967 by Leo Abse and others
Leo Abse and the Reform of the Sexual Offences Acts : 2017 marks the 50th anniversary of the passing of the Sexual Offences Act, 1967. This change in the law was the first step in legalizing homosexual activities between 21- year- old- men. The talk takes a retrospective look at the law from Victorian times with some of the most controversial and public of the cases that reached the courts before 1967, including the notorious Abergavenny case of 1942, the prosecution of Lord Montagu of Beaulieu in 1954, and the tales of several Members of Parliament whose careers were ended when found importuning and prosecuted. The talk will also explain what events in Society as a whole led to the change in the law, including the recommendations of the Wolfenden Report of 1957. Leo Abse was the charismatic Welsh MP for Pontypool who campaigned with others to bring about a change in the law that nowadays allows parity in the age of consent between the sexes. Over sixteen's only please.
Speaker(s):

Date and Time:

22 October 2017 at 10:30 am

Duration:


2 hours

Venue:


Cwmbran Probus Club
Church Hall
Cwmbran
N P44


Show map



Organised by:


William Cross, FSA Scot
See other talks organised by William Cross, FSA Scot...

Tickets:

Members and Guests

Available from:

Contact the Club Secretary for details and also exact location of hall

Membership Information:

This is a members-only event


Contact the Club Secretary for details and also exact location of hall

Additional Information:

William Cross, FSA Scot is the author or SIX books on the Carnarvons of Highclere Castle, the backdrop to TV's Downton Abbey and SIX books on members of the Morgan family of Tredegar House,, Newport, South Wales. His book on the Abergavenny case of 1942 was published in 2014. Copies of " THE ABERGAVENNY WITCH HUNT" The prosecution of over 20 homosexuals in a small Welsh town in 1942 can be obtained from the Author or Via AMAZON.
Register to tell a friend about this lecture.
Comments
If you would like to comment about this lecture, please register here.