Sketches of Evan, Viscount Tredegar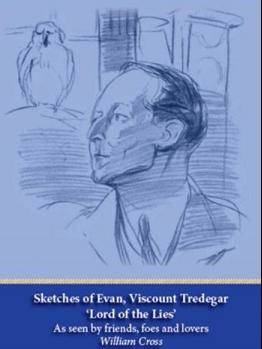 Sketches of Evan, Viscount Tredegar" subtitled 'Lord of the Lies' is a compilation of reminiscences and impressions about Evan Frederic Morgan, 4th Lord Tredegar of Tredegar House, Newport, South Wales
This lecture highlights new work by from Lord Tredegar's biographer William Cross. In the talk Cross sets the mould for understanding Evan Frederic Morgan (1893-1949), eccentric Welsh aristocrat, notorious homosexual, congenital liar & fantasist, the last Viscount Tredegar, of Tredegar House, Newport, South Wales. Here is the actuality about Evan recalled by those who knew him, friends, foes & lovers. In this selection the contributors are Evan's crowd, some habitués at Tredegar House during Evan's tenure. Story tellers include Cyril Hartmann, Robin Bryans, Charles Graves, Desmond & Shane Leslie, Alan Pryce-Jones & Henry Maxwell. This is promotional talk highlights Evan Morgan's life with frank descriptions, candid opinion, rare personal reflections & colourful anecdotes to shed light on his twisted personality.
Speaker(s):

Date and Time:

15 November 2017 at 2:00 pm

Duration:


1 hour 30 minutes

Venue:


Newport Hard of Hear Club
c/o Riverfront Theatre
Kingsway
Newport
NP20 1HG


Show map



Organised by:


William Cross, FSA Scot
See other talks organised by William Cross, FSA Scot...

Tickets:

Members and Guests

Available from:

Contact the Secretary, Newport Hard of Hearing Club

Membership Information:

This is a members-only event


Members and guests

Additional Information:

William Cross adds "There are still many tall stories about Evan Morgan, and so called facts have been invented, in some cases these are not better than lies.."
Register to tell a friend about this lecture.
Comments
If you would like to comment about this lecture, please register here.