Beechwood : A Story of Childhood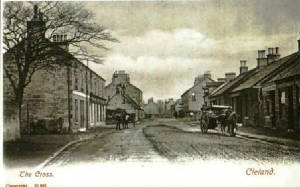 Anecdotes and readings from Author William Cross, FSA Scot recounting his childhood in Scotland in the 1950s and 1960s. Beechwood,Cleland, was the Cross family home from 1900-1965
The passage of time changes a village landscape. We have a responsibility to record something about the place(s) where we grew-up and recall to memory the people and things remembered from time-past.
The recounting of this is important : it is of value to the next generation to pass on to them: and to ourselves it is a sort of life passage. It can be a mix of the wonderfully sentimental exorcising some ghosts, but not everyone has pleasant memories to recapture from childhood.
In this illustrated talk the published author William Cross, FSA Scot recalls to life some of the affectionate memories of his childhood and family roots. The work was inspired by William's late brother Charlie, who died aged 40 in 1995. A tribute to Charlie and to the village of Cleland,in Lanarkshire,Scotland and a precious period of childhood they shared at Beechwood, Cleland the family home of the Crosses and collaterals from 1900-1965.
Cleland remains a small village in Lanarkshire,Scotland with an industrial past, a famous old iron works at Omoa ( an adjoining hamlet to Cleland) and a notable brick making company based at Auchinlee (another hamlet).
Speaker(s):

Date and Time:

30 January 2018 at 1:00 pm

Duration:


2 hours

Venue:


Risca U3A
Youth Club
Brookland Road
Risca, Newport
NP11 6BH


Show map



Organised by:


William Cross, FSA Scot
See other talks organised by William Cross, FSA Scot...

Tickets:

See Club Secretary

Available from:

See Club Secretary

Membership Information:

This is a members-only event


Members and guests

Additional Information:

William Cross, FSA Scot is the author of books on the Morgans of Tredegar House, Newport, South Wales and the Carnarvons of Highclere Castle ( the backdrop to TV's Downton Abbey). He is currently writing a book to accompany this talk entitled " Beechwood : A Story of Childhood in a 1950s Scottish Village"
Register to tell a friend about this lecture.
Comments
If you would like to comment about this lecture, please register here.