Strange Tales of London: Murder, Magic and Urban Myth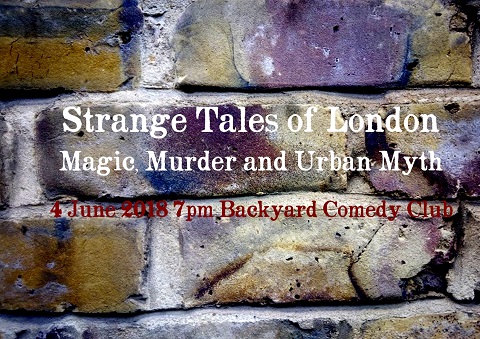 Join Haunt London for an night of witchy, magical and bone-marrow curdling stories from London.
Join Haunt London for an night of witchy, magical and bone-marrow curdling stories from the forgotten past and lost paths of London and beyond with tales of the Ratcliffe Highway Murders, Crouch End Spriggan and magic and mystery with author Cathi Unsworth.
Cathi Unsworth- That Old Black Magic
Cathi Unsworth is the author of six pop-cultural crime novels based on real-life unsolved or controversial cases. Her latest, That Old Black Magic (Serpent's Tail), interweaves the true stories of the Hagley Woods mystery of 1943 and the trial of Helen Duncan, the last woman to be prosecuted for witchcraft in the UK, in 1944.
Real life characters mingle with the imagined in a secret history of spiritualists, stage magicians and spooks of all persuasions under the blackout of Britain's bleakest hours.
Vanessa Woolf – The Ratcliffe Highway Murders
A terrifying and appalling true story from East London of long ago. On Cable Street in East London and, just along from the Museum of Jack the Ripper, you will see an old pub, the Crown and Dolphin, which has been redeveloped into luxury apartments.
Each one "boasts a light and airy open plan reception finished to an exacting standard with reclaimed materials, completing the stunning finish throughout the property."
However if people knew the story of this particular pub, they might be a little bit more reluctant to spend their half a million quid. Now is your chance to hear that story.
Vanessa Woolf tells stories for adults that are real, exciting, magical and engaging from start to finish. Her TEDx talk on 'Finding Magic' was recorded in November 2017.
Gyrus – The Crouch End Spriggan
A trip down an abandoned rail line brings us face to face with a strange creature emerging from the brickwork of an old station arch. Its story is one of Lovecraftian synchronicity, urban legends, permaculture, and cough syrup hallucinations.
Gyrus is a writer based in south London. Creator of the journals Towards 2012 and Dreamflesh, and author of North, an epic cosmological history. He runs the website Dreamflesh.
Speaker(s):

Cathi Unsworth | talks | www
Storyteller Vanessa Woolf | talks | www
Gyrus | talks | www


Date and Time:

4 June 2018 at 7:00 pm

Duration:


2 hours

Venue:


Backyard Bar and Kitchen
231 Cambridge Heath Road
Bethnal Green
London
E2 0EL

http://backyardbar.co.uk
Show map



Organised by:


Tickets:

5

Available from:

http://www.wegottickets.com/event/435670
Register to tell a friend about this lecture.
Comments
If you would like to comment about this lecture, please register here.