Goldoni, the Freemasons and the Mysteries: the female discovery trope in 18th century theatre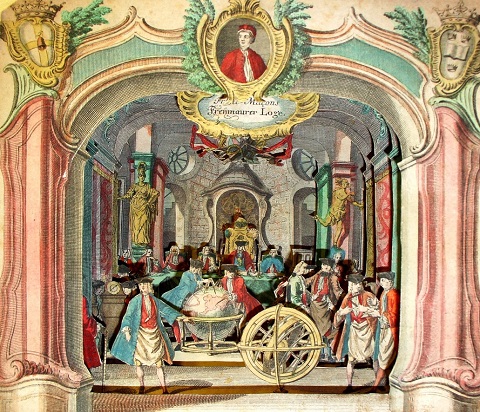 Join us at the Library and Museum of Freemasonry for an entertaining talk by Professor Matthew Leigh, introducing his latest research uncovering elements of freemasonry discovered in early eighteenth century comic dramas by French and Italian writers.
A tutor in Classics and Ancient History at St Anne's College, Oxford, Matthew has a particular interest in the comedies of Carlo Goldoni (1707 – 1793), whose play A Servant of Two Masters had a successful West End and Broadway revival staring James Corden as One Man, Two Guv'nors in 2011.
Goldoni's Le donne curiose (1753) is one of a number of dramas of the mid-18th century that respond to the extraordinary growth of freemasonry across Europe and beyond in the years after the foundation of the London Grand Lodge in 1717. It demonstrates a close affinity with Pierre Clément's Les fri-maçons (Paris, 1737) and Francesco Griselini's I liberi muratori (Venice, 1754). This talk examines how Goldoni's play introduces key features of masonic practice and discourse and examines how both his and Griselini's work exploit the masons' identification of their order as a continuation of ancient mystery cult. The discovery trope in enlightenment drama may originate from the initiation and passing of Elizabeth St. Leger (later Aldworth) in Doneraile Lodge, No. 44, Doneraile, Ireland in c.1712, after she was found observing a meeting.
Matthew's recent publications include Comedy and the Rise of Rome (Oxford, 2004) and From Polypragmon to Curiosus. Ancient Concepts of Curious and Meddlesome Behaviour (Oxford, 2013).
Speaker(s):

Date and Time:

9 May 2018 at 6:00 pm

Duration:


1 hour 30 minutes

Venue:


Library and Museum of Freemasonry
Freemasons' Hall
60 Great Queen Street
London
WC2B 5AZ
02073959257
http://www.freemasonry.london.museum

More at Library and Museum of Freemasonry...

Tickets:

Free

Available from:

https://freemasonrymuseum.eventbrite.co.uk

Additional Information:

This is a free event but tickets must be obtained via Eventbrite
Register to tell a friend about this lecture.
Comments
If you would like to comment about this lecture, please register here.