A Platonic look at Homer's Iliad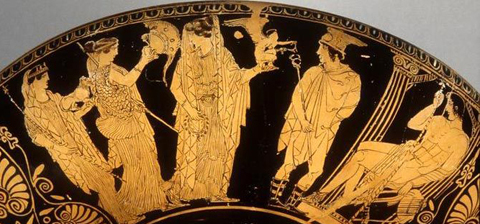 Homeric epics and Platonic philosophy - a clash? Or two sides of the same coin of wisdom?
In the glittering and enduring stellium that was ancient Greece, the two brightest stars were Plato and Homer: the former is known as the founder of the West's rational and systematic approach to truth, the latter as the founder of the West's literary tradition. But perhaps the simple division of philosopher on the one hand, and epic fiction writer on the other fails to capture the range of either: Plato's use of myth and story, and his power to move the reader in the drama of his dialogues, along with his ability to elevate and initiate those who follow him along the path of philosophy is there for any who are open to such possibilities. And Homer, whose understanding of the human condition and the stage upon which we are required to unfold our mysterious nature has rarely been surpassed, has perhaps obscured his wide-ranging wisdom by hiding it in symbolic and mythic language.
Can we draw the two together by reading Homer with Platonic eyes? Will Platonic concepts help us to gain a deeper understanding of the two great epics attributed to Homer, and will his verses give us insights into the narrative which Plato offers us, scattered through various dialogues, of the soul's journey?
No previous experience of formal philosophy is required.
Entrance in free, but donations between £2-4 will be welcomed.
A PDF download of the extract we will be reading is available on our website together with further details of this and other Prometheus Trust's activities: www.prometheustrust.co.uk (the PDF is on the "Bristol Wednesday evenings" page.
Register to tell a friend about this lecture.
Comments
If you would like to comment about this lecture, please register here.