All the Living and All the Dead: How War and Spanish flu Changed our View of Death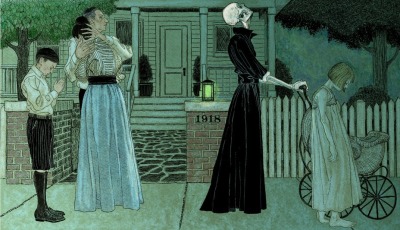 This talk will examine the ways in which the devastating impacts of WW1 and the Spanish Flu came together and altered the way in which Britain grieved and memorialised its dead forever.
We are all familiar with the catastrophic death toll of the First World War and the plight of so many families left with no body to bury or grave to visit. However the war was swiftly followed a far less well known and much more deadly civilian tragedy, the 1918 Spanish flu pandemic which killed a staggering 50-100 million people worldwide. This period marks a crucial turning point in the way the British mourn, when people abandoned elaborate Victorian mourning customs in favour of the simpler rituals commonly seen today. In this talk Holly Carter-Chappell will examine the ways in which these two calamitous events altered the way in which Britain grieved and memorialised its dead forever.
Ticket price includes entry to the talk and an opportunity to explore the Spanish Flu exhibition after hours.
Speaker(s):

Date and Time:

25 April 2019 at 6:00 pm

Duration:


1 hour

Venue:


Florence Nightingale Museum
Gassiot House
2 Lambeth Palace Road
London
SE1 7EW
020 7620 0374
http://www.florence-nightingale.co.uk

More at Florence Nightingale Museum...

Tickets:

£9 (plus booking fee)

Available from:

https://www.eventbrite.co.uk/e/all-the-living-and-all-the-dead-how-war-and-spanish-flu-changed-our-view-of-death-tickets-56182498365
Register to tell a friend about this lecture.
Comments
If you would like to comment about this lecture, please register here.