Tutankhamun : Carnarvon, Carter and Tutankhamun Revisited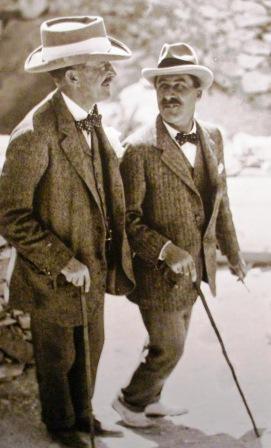 William Cross FSA Scot is the Author of SIX BOOKS featuring Howard Carter and the Carnarvons of Highclere Castle William Cross will talk on Lord Carnarvon & Howard Carter and Tutankhamun and will include a new appraisal of the Tutankhamun treasures discovered in 1922 and the three immortal figures behind the story.
William Cross, FSA Scot, biographer of Almina, 5th Countess of Carnarvon of Tutankhamun fame and several other books on the Carnarvons of Highclere Castle and author of Lordy! Tutankhamun's Patron As A Young Man takes look at Lord George Carnarvon and Howard Carter the men behind the great discovery of the Tomb of Tutankamun and appraises the treasures found by them in the Valley of the Kings in 1922. The talk will include reference to the latest news from Luxor on the claims of Dr Nicholas Reeves about hidden tombs inside the tomb of the Boy King and the forthcoming exhibition in London in the autumn of 2019 of the last tour of the exhibits from Egypt before their final resting place in a new museum at Giza.
Speaker(s):

Date and Time:

25 June 2019 at 10:30 am

Duration:


1 hour 30 minutes

Venue:


Dinas Powis Probus
Dinas Powis Golf Club
Old Highwalls
Dinas Powis
CF64 4AJ


Show map



Organised by:


William Cross, FSA Scot
See other talks organised by William Cross, FSA Scot...

Tickets:

See Member Secretary

Available from:

See Membership Secretary

Membership Information:

This is a members-only event


Members and Guests

Additional Information:

William Cross, FSA Scot is a writer and lecturer based in Newport, South Wales. He is the author of SIX BOOKS on the Carnarvons of Highclere Castle, the backdrop to TV's Downton Abbey. He has a new and controversial book " Carnarvon, Carter and Tutankhamun Revisited: The hidden truths and doomed relationships" The book was published on 20 October 2016. Copies direct from the Author or via AMAZON or e-bay.
Register to tell a friend about this lecture.
Comments
If you would like to comment about this lecture, please register here.