Prince Victor Duleep Singh & the Curse of the Carnarvons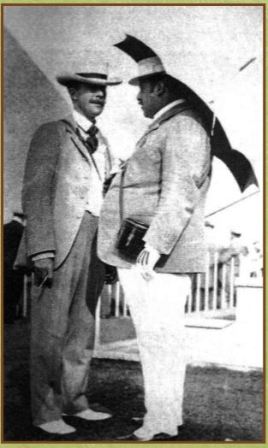 The controversial story of the close friendship between Lord George Carnarvon ( the Earl of Highclere Castle who discovered Tutankhamun) and Prince Victor Duleep Singh the grandson of Maharajah Ranjit Singh of Lahore, the Lion of the Punjab and the founder of the great Sikh Empire.
The 5th Earl of Carnarvon ( as Lord Porchester) and Prince Victor Singh
(the eldest son of the Maharajah Duleep) were both born in England in 1866.
As boys they met at Eton College and throughout their lives were deeply attached to each other. They shared the privileges of wealth and travel and enjoyed a carefree playboy life style for many years, gambling and living close to the edge of the Victorian underbelly of pleasure and vice. They were both well known in Britain, Egypt and USA for the love of horse racing and animal breeding, shooting, yachting and playing the tables at Monte Carlo.
When they both married their wives were relegated to second place but their friendship proved essential in ensuring the continuity of the blood line of one of them. Carnarvon was a man crippled with bad genes and known for his impatience. Victor was always an influence of calm and protection, albeit in his own affairs he overspent and lived well beyond his means.
In this illustrated talk the Society Author William Cross FSA Scot ( biographer of Lord Carnarvon and his wife Almina, 5th Countess) outlines the remarkable story of these two men and reveals their great secrets, secrets that point to an extraordinary conclusion that even today more than 100 years after the death of both men, they still have a combined legacy in place within the British Peerage. The legacy is however seen by some as more of a curse.
Speaker(s):

Date and Time:

30 July 2019 at 12:30 pm

Duration:


2 hours

Venue:


Risca U3A
c/o Risca Youth Centre
Brookland Road
Risca
NP11 6BH


Show map



Organised by:


William Cross, FSA Scot
See other talks organised by William Cross, FSA Scot...

Tickets:

See Member Secretary

Available from:

See Membership Secretary

Membership Information:

This is a members-only event


Members and Guests

Additional Information:

William Cross FSA Scot is the Author of a number of books on the Carnarvons of Highclere Castle, including biographies of Lord George Carnarvon and his wife Almina. These books reveal the many secrets in the life of Lord Carnarvon and his friend Prince Victor Duleep Singh. Cross is working on a new book "Prince Victor Duleep Singh & the Curse of the Carnarvons" to be published in 2019.
Register to tell a friend about this lecture.
Comments
If you would like to comment about this lecture, please register here.