The Apology of Socrates - a reading and discussion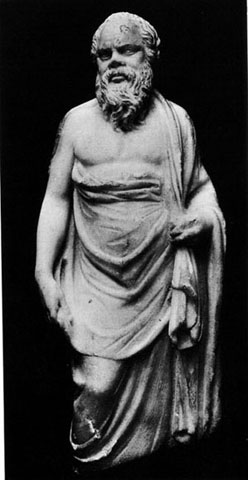 Exploring the Apology of Socrates in two evenings - part 1
Plato's account of the apology or defence offered by Socrates in his trial when charged with impiety and the corruption of youth in Athens is one of the great moments in philosophic literature in the west. It demonstrates the seriousness with which Socrates took his quest for wisdom - a search which even the threat of death could not prevent. The priority that the Platonic tradition gives to the care of the soul over and above all other human endeavours is encapsulated in Socrates exhortation, "O best of men, since you are an Athenian, of a city the greatest and the most celebrated for wisdom and strength, are you not ashamed of being attentive to the means of acquiring riches, glory and honour, in great abundance, but to bestow no care nor any consideration upon wisdom and truth, nor how your soul may subsist in the most excellent condition?" And perhaps we who live in a civilization which we consider to be marked by intelligence and strength should attend to that plea with greater thought than Socrates' earlier judges. We will read and discuss the Apology over two sessions (starting the second session with a short summary of the first half, for those who are absent from the first session). The second session will be on the 2nd December.
No previous experience of formal philosophy is required.
Entrance in free, but donations between £2-4 will be welcomed.
A PDF download of the extract we will be reading is available on our website together with further details of this and other Prometheus Trust's activities: www.prometheustrust.co.uk (the PDF is on the "London Monday Evenings" page.)
Register to tell a friend about this lecture.
Comments
If you would like to comment about this lecture, please register here.