Has the Health Service become depersonalised?
THIS EVENT HAS BEEN CANCELLED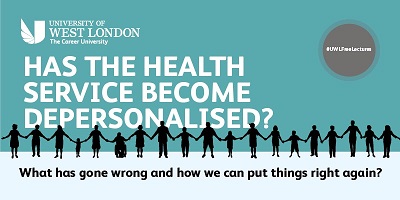 What has gone wrong and how can we put it right again?
There has been an increase in recognition that chronically ill patients need more comprehensive forms of assistance. To address this, the NHS needs to move away from the current approaches to the management of these conditions and towards newer models of care that are personalised, integrated and contextualized.
In this lecture, Professor Andrew Miles and Professor Michael Loughlin, will outline how the NHS has become depersonalised and what can be done to fix it.
This public lecture is open to all and we particularly invite members of the local community to join us.
Doors open at 5.30pm with the lecture starting at 6pm. Tea, coffee and refreshments will be available beforehand.
Following the lecture there will be an opportunity for guests to network over drinks and canapés.
Register to tell a friend about this lecture.
Comments
If you would like to comment about this lecture, please register here.