The Charterhouse from Restoration to Revolution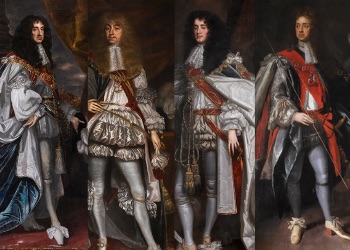 During the turbulent 17th century, the Charterhouse governors were the political elite of their time. This is their story.
At our February online lecture, Dr. Cathy Ross, Honorary Research Fellow at the Museum of London, and consultant to the Charterhouse, will be sharing new stories that have emerged from the recent Great Chamber project, and in particular its focus on the seventeenth-century governors whose portraits now hang in the room. Did the restoration of Charles II after the Civil War usher in a period of calm, or was the opposite true? The lecture will explore the ups and downs of Sutton's Hospital and its governors during this remarkable and turbulent period.
Dr Cathy Ross's museum career has focused on the challenges of representing the complexity of cities within a museum, and has published widely on museums, contemporary collecting and London history. Her books include Designing Utopia: John Hargrave and the Kibbo Kift (2015), London: The Illustrated History (2008), The Romance of Bethnal Green (2007), Twenties London: a City in the Jazz Age (2003).
Speaker(s):

Dr Cathy Ross | talks


Date and Time:

25 February 2021 at 7:00 pm

Duration:


1 hour

Venue:


the Charterhouse
Charterhouse Square
London
EC1M 6AN
02072539503
http://www.thecharterhouse.org

More at the Charterhouse...

Tickets:

Free, donation welcome

Available from:

https://thecharterhouse.digitickets.co.uk/tickets
Register to tell a friend about this lecture.
Comments
If you would like to comment about this lecture, please register here.