Hon. Tom Freeman-Mitford 1909-1945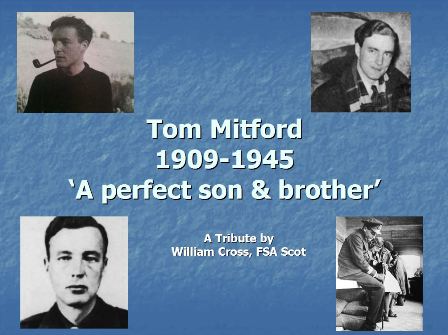 An Illustrated talk on the troubled life and times of Tom Mitford only brother of the famous Society Mitford sisters by William Cross FSA Scot
Tom Mitford - "A Perfect Son and Brother"
Tom Mitford was the only son of Thomas David Freeman-Mitford , the 2nd Baron Redesdale ( known to his children as "Farve" ) and his wife Sydney Bowles ( known to her children as "Muv".)
He was the only brother of the six famous Mitford sisters who led notorious lives in feats of scandal, love, adultery, divorce and following fascism, as part of the 20th century's greatest high jinx tales, and real history and folklore. No one was allowed to ignore the Mitford clan.
Tom was not a headline seeker, but his story is just as eventful and tumultuous as his sisters.
Society Author William Cross, FSA Scot has made a close study of Tom Mitford's life, loves, career and the relationship
with his well known sisters and parents.
This illustrated talk will shock and amuse : this is a detailed insight into one topsy-turvy, dysfunctional family, perhaps Britain first soap opera. Tom's family memorial at St Mary's Church, Swinbrook records him as being a "very perfect son and brother" But was he?
Register to tell a friend about this lecture.
Comments
If you would like to comment about this lecture, please register here.