Einstein and the universe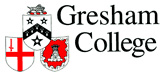 BIG IDEAS
In 1915 Albert Einstein produced a theory of gravity that allows us to describe whole universes. What is that theory, how does it work, why do we take it seriously, and what are these universes that it predicts can exist? We will look at some of the unusual universes that have been found to be solutions of Einstein's equations over the past 90 years and discover which, if any, of them looks most like our own Universe.
Register to tell a friend about this lecture.
Comments
If you would like to comment about this lecture, please register here.