Impossibility: the limits of science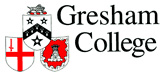 BIG IDEAS
Are there limits to science? We will look first at the questions which 19th-century commentators claimed would never be answered. Then we will explore the different types of limits – practical, computational, and fundamental – that constrain what we can know about the universe. Some of these limits are consequences of our nature, some are consequences of the universe's nature, while others are consequences of the nature of knowledge itself.
Register to tell a friend about this lecture.
Comments
If you would like to comment about this lecture, please register here.