Chance encounter with a black hole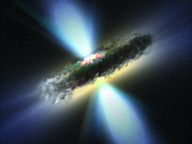 Ken will recount the emerging evidence for black holes and review the latest results.
The existence of black holes of many sizes, but just the one colour, is now well established and much information on these enigmatic objects has been obtained by telescopes operating at X-ray energies. Ken Pounds, Professor of Space Physics at the University of Leicester and former President of the Royal Astronomical Society(RAS), is a pioneer in X-ray astronomy and has worked on a variety of international space missions studying the giant black holes lurking in the centre of many, perhaps all, galaxies. His initial interest in science was awakened at the neighbouring grammar school in Yorkshire, attended – years earlier – by another former President of the RAS, Sir Fred Hoyle. His education continued with a physics degree at University College London, followed by a PhD in the newly-formed Rocket Research Group. The following two decades were a period of exploration, viewing the sky with X-ray 'eyes' to see what – if anything – was there. The 'X-ray sky' turned out to be very rich, and as is often the case in astronomy, gravity emerged as the dominant force at work. Before long, X-ray observations from increasingly sophisticated space missions revealed clear evidence for the ultimate gravitational bodies, black holes. Looking back on a career spanning the first decades of space science, Ken will recount the emerging evidence for black holes and review the latest results, while giving us an insight into the drives and motivations that led to his life in science. Just why was his long-term interest in sport such a significant factor in his fear of 'a proper job' and was he just in the right place at the right time?
Register to tell a friend about this lecture.
Comments
If you would like to comment about this lecture, please register here.