More chocology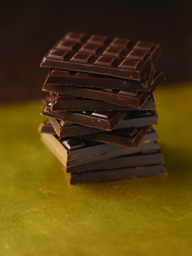 Sara Jayne Stanes from the Academy of Chocolate will lead the audience in a fabulous tasting with Amedei chocolate
Imagine if chocolate had never been invented. All cakes would be lemon. We'd have to have secret stashes of vegetables. And what would happen to Belgium? The frightening possibilities could have come to pass more easily than most of us realise, since chocolate depends on such complicated science that it's a wonder we were ever able to make it. After last year's successful 'Chocology' event, we're revisiting the topic for another journey through the remarkable science of chocolate. We'll investigate chocolate's history, how it's made, some of its possible health benefits and more. Where does chocolate get its melt-in-the-mouth sensation? Does it deserve its reputation as an antidepressant and aphrodisiac? Any idea what chocolate has in common with ketchup? Stephen Beckett will answer all of these questions, and you may even be asked to take part in one of his delicious demonstrations! As a special treat, Sara Jayne Stanes from the Academy of Chocolate will lead our audience in a fabulous tasting with Amedei chocolate. This event will be chaired by another chocolate insider, Ri Council member Bob Eagle. His 30-year career in the food industry was mainly spent working with chocolate.
Dr Stephen Beckett holds degrees from Durham University and the University of York. He has had a long career investigating the science of chocolate, both in research and factory production. He is also the author of a number of books and articles on the subject for professional and student audiences.
This event is in association with the Academy of Chocolate and Chocolate Festival 2005.
Register to tell a friend about this lecture.
Comments
If you would like to comment about this lecture, please register here.