Diamond life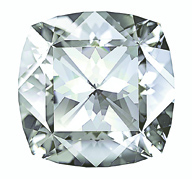 Is there more to these glittering gems than meets the eye?
Diamond is a superhard form of elemental carbon formed deep inside the Earth and is the hardest natural substance known to man. Brought to the surface in giant explosive eruptions, and mined from or washed out of the soft rock that surrounds them, they hold a special fascination, but just what is it that makes them a girl's best friend? From its background as a mineral and material, to the fabulous jewellery that adorns some of the world's most beautiful (and wealthy) people, to its uses and potential in industry and technology, Paul will trace the lifecycle of a diamond from deep within the Earth to the shop window, industrial synthesis and beyond. Did you know that scientists now make diamonds in the laboratory using high-pressure techniques that have been scaled up into an important industrial process to make materials for cutting and polishing hard rock and metals? Or that diamonds are also used by scientists as anvils to squeeze materials up to millions of atmospheres? Well see for yourself as Paul demonstrates the use of the diamond anvil cell, that lets scientists take a fascinating peek into the nature of dense matter. Samples of diamonds in their various stages/forms will be displayed in the Main Library for the audience to view both before and after the event, courtesy of the Diamond Trading Company.
Paul F McMillan is Chair of Solid-State Chemistry at University College London, a post held jointly with the Royal Institution. He moved from Arizona State University, where he was Professor of Chemistry and Director of the Centre for Solid-State Science, in July2000. Paul has been awarded a prestigious Royal Society/Wolfson Foundation/DTix award for his work on chemistry at high pressure.
This event is supported by Asprey London.
Register to tell a friend about this lecture.
Comments
If you would like to comment about this lecture, please register here.