In the company of animals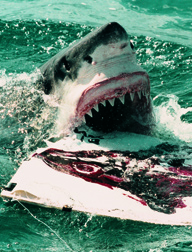 Join us for an event that's sure to be riveting and thought-provoking at the same time!
Olly & Suzi may have the best job in the world. Their long-lasting artistic partnership has taken them on over 30 expeditions to remote Arctic, desert, ocean and jungle regions. They paint and interact with endangered animals in the wild, bringing attention to the animal's fragile existence. Keeping animals cared for is also the preserve of Tony Fitzjohn, who has lived in the wilds of Kenya and Tanzania for over 30 years, and is the driving force behind Tanzania's resurrected Mkomazi Game Reserve. Dawn Hawkins, Senior Lecturer in Animal Behaviour at Anglia Polytechnic University, also spends a good deal of time in the company of animals, studying Tanzanian wildlife from a scientific point of view. We're bringing all of them together to find out how each of them, with their different backgrounds, conceive of the animals they work with. Are animals their subjects or their collaborators? How can each of them contribute to keeping species from disappearing from the wild, and what can artists, scientists and conservationists learn by listening to each other's viewpoints? Dr Steve Baker (reader in Contemporary Visual Culture at The University of Central Lancashire) will chair this event.
This event is in partnership with the Dennis Rosen Memorial Trust, aiming to promote dialogue and understanding between artists and scientists.
Register to tell a friend about this lecture.
Comments
If you would like to comment about this lecture, please register here.