THE BIG DEBATE: Does God Exist?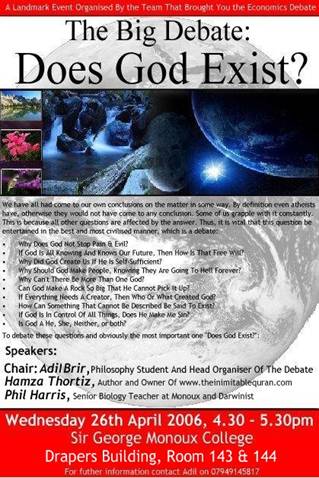 A Landmark Event Organised By The Team That Brought You The Economics Debate
We have all had come to our own conclusions on the matter in some way. By definition even atheists have, otherwise they would not have come to any conclusion. Some of us grapple with it constantly. This is because all other questions are affected by the answer. Thus, it is vital that this question be entertained in the best and most civilised manner, which is a debate:
1. Why Does God Not Stop Pain & Evil?
2. If God Is All Knowing And Knows Our Future, Then How Is That Free Will?
3. Why Did God Create Us If He Is Self-Sufficient?
4. Why Should God Make People, Knowing They Are Going To Hell Forever?
5. Why Can't There Be More Than One God?
6. Can God Make A Rock So Big That He Cannot Pick It Up?
7. If Everything Needs A Creator, Then Who Or What Created God?
8. How Can Something That Cannot Be Described Be Said To Exist?
9. If God Is In Control Of All Things, Does He Make Me Sin?
10. Is God A He, She, Neither, or both?
To debate these questions and obviously the most important one "Does God Exist?":
Register to tell a friend about this lecture.
Comments
If you would like to comment about this lecture, please register here.