The times of our lives: A history of longevity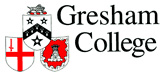 Physic lecture
Notwithstanding bible stories, the average human lifespan has reached "three score years and ten" only through spectacular increases in the past two centuries, and only in the richer half of the world. Among the 60 million people who die each year, 10 million are children under five, mostly in poor countries. What do they die of, and why? Where in the world is health getting better, and where is it getting worse?
Register to tell a friend about this lecture.
Comments
If you would like to comment about this lecture, please register here.