Standards Markets: The free market response to regulation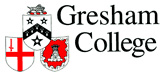 Commerce lecture
Many societal goals for markets can be achieved with more innovative regulation using standards markets that seem to bridge the market-government divide. Standards markets, such as those based on the International Standards Organisation or the International Social and Environmental Accreditation and Labelling (ISEAL) Alliance, counter Screaming Lord Sutch's sublime question. "Why is there only one Monopolies Commission?".
Register to tell a friend about this lecture.
Comments
If you would like to comment about this lecture, please register here.