Enclosures of the Mind: Governing the Intellectual Commons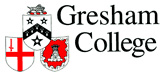 Special event
We are living in an age of remarkable intellectual property appropriation - copyright, trademarks, patents and commercial secrets grow at an unprecedented rate. However, is this right or appropriate? Do the new owners deserve these rights, what might it mean for society, are there alternative ways of governing intellectual property - who wins and who loses? This lecture will explore one of the thorniest areas of the modern economy and question whether global advancement needs 'closed source', or should go increasingly 'open source'.
Register to tell a friend about this lecture.
Comments
If you would like to comment about this lecture, please register here.