The age of dictatorship: Europe 1918-1989 - Hitler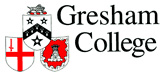 History lecture
The second lecture in this series turns to Germany, where the economic depression that began in 1929 destroyed the Weimar Republic and ushered Hitler and his Nazi Party to power. Hitler's dictatorship combined intensive political repression with comprehensive propaganda, racial engineering and preparation for European conquest.
Register to tell a friend about this lecture.
Comments
If you would like to comment about this lecture, please register here.