Creativity and mental illness - you have to be mad to be creative?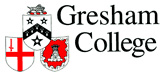 Psychiatry lecture
Using Robert Schumann as an example - a composer thought by some authorities to have suffered from bipolar disorder or manic-depression - why psychological dysfunction appears to so frequently accompany extreme ability, particularly in the arts is explored. Can a biographical and psychological analysis of great artists provide clues as to the genesis of genius?
Register to tell a friend about this lecture.
Comments
If you would like to comment about this lecture, please register here.