The grinning shadow that sat at the feast: In commemoration of Hector Munro, 'Saki'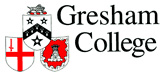 In commemoration of Hector Munro, 'Saki'
Hector Munro was a journalist better known for his satire and biting wit, written under the pen name Saki. He foresaw the outbreak of war and wrote about it in 1913 with When William Came. Although over-age, he volunteered for service at the outbreak of war with the Royal Fusiliers (a City regiment) and died on the Somme. But why did he refuse a commison, why did he not join the Intelligence battalion to stay out of the trenches - and why did he choose the pen-name Saki? A 100-year literary mystery is about to be solved.
Register to tell a friend about this lecture.
Comments
If you would like to comment about this lecture, please register here.